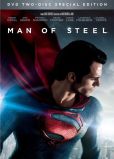 General Zod stages a coup on Krypton as the planet starts to crumble.

Jor-El and his wife Lara deliver a son instead of using the pod system normally used for children.

They prepare a spacecraft to send Kal-El to Earth in order to save his life.

General Zod vows to track him down wherever he goes.

Jonathan and Martha Kent in Kansas raise Clark as their own son.

He knows he's different but his father tries to shield him from letting people discover how different.

As he grows, he gains more power and strength.

He determines he will try to help mankind but he needs to guard against their fear of him.
There is plenty of action in this film.

Slightly long on the battle scenes between General Zod, female Captain Fajora-Ul and Superman.

You do wonder if Superman can match their out-of-this world strength and stamina.

3* (This movie is OK)
143 min, Action directed by Zack Snyder with Henry Cavill, Amy Adams, Michael Shannon, Russell Crowe, Kevin Costner, Diane Lane, Julia Ormond Harry J. Lennix, Laurence Fishburne, Richard Schiff.
Note:

Blockbuster 3 ½*, imdb 7.4 out of 10, 55% critic 77% audience on Rotten Tomatoes.