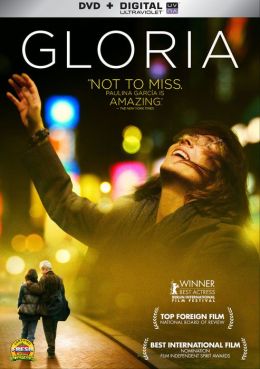 As woman of a certain age, she's 50'ish, Gloria still feels young.

She likes to go to a local club to dance with other single adults.

She's lonely, an office worker in Santiago and has been divorced for about a decade.

She has a son and daughter but they have their own lives.

She's a grandmother to her single parent son's child.

She has met men at the club but nothing has come of the meetings so far.

She meets Rodolfo and everything changes, they enjoy each other's company.

The only problem is that Rodolfo has been divorced for only a year and he is the sole support for his ex-wife and their two adult daughters.

The ex-wife doesn't have a job and the daughters are 27 and 31 but still in school.
Gloria gives this relationship her all and she's very happy to find love in her golden years.

There are two major problems in their romance.

Rodolfo is too close to his family and he doesn't want them to know anything about Gloria.

I thought this was very good, Garcia has only been in a few films but she really nails the role of Gloria. This film doesn't sugar-coat the fact that the two main characters don't have young, slim, perfect model bodies.

4* (I really liked this movie)
110 min, Comedy directed by Sebastian Lelio with Paulina Garcia, Sergio Hernandez, Diego Fontecilla, Fabiola Zamora, Luz Jimenez, Alejandro Goic, Liliana Garcia, Coca Guazzini, Hugo Moraga, Cristian Carvajal.
Note:

Imdb 7.0 out of 10, 99% critic 64% audience on Rotten Tomatoes, Roger Ebert 4*.