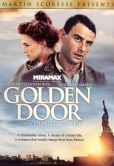 Salvatore
is a very poor farmer during the beginning of the 20th century in Sicily.

He has decided to journey to the United States with all of his family.

While they are being inspected before boarding ship, they meet Lucy.

She is British and would like to return to the States.

She has a problem, she will need to marry someone since unmarried women are not allowed to immigrate.

The custom officers perform many physical and mental tests before they allow entrance.
It is interesting to see the Sicilian immigrants before and after their arrival in this country.

They have a lot of images in their minds about life here that aren't true.

It takes a LONG time to make this trip in this movie.

3* (This movie is OK)
118 min, Drama directed by Emanuele Crialese with Charlotte Gainsbourg, Vincenzo Amato, Aurora Quattrocchi, Francesco Cassia, Fillippo Pucillo, Federica De Cola, Isabella Ragonese, Filippo Luna.
Note:

Imdb 6.9 out of 10, 72% critic 69% audience on Rotten Tomatoes, Film Crave 2.00/4.