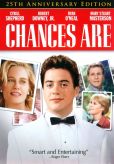 Louie and Corinne Jeffries are very happily married.

They are celebrating their one-year wedding anniversary and Corinne's gift to Louie is she is going to have a baby.

Corrine is waiting for Louie at a restaurant to celebrate their day.

Louie has purchased a pair of diamond earrings for Corinne.

As he is walking across the street, a car hits him and he dies.

Corinne has a daughter and she mourns Louie's death for 23 years.
The twist in this film is that Louie is reborn as Alex.

He is working at the library and meets Corinne's daughter, Melanie.

Alex starts to remember he's Louie when he goes to their home.

The characters are interesting and you can connect with them.

Slightly far fetched on the re-born theory and then remembering another life.

3 ½* (I liked this movie)
108 min, Romance directed by Emile Ardolino with Cybil Shepherd, Robert Downey, Jr., Ryan O'Neal, Mary Stuart Masterson, Christopher McDonald.
Note:

Blockbuster 3*, imdb 6.4 out of 10, 65% audience 66% audience on Rotten Tomatoes.