This film is inspired by the true events about the Beltway sniper killers.

They terrorized Washington D.C. and parts of Virginia in 2002.

They killed ten people and wounded three.

John kidnaps his children from their mother after their divorce and they vacation in Antigua.

He doesn't think he's doing anything wrong.

They are his children, he has the right to see them and it doesn't matter that their mother has custody.

After the children are returned to their mother, a restraining order is issued against him and he cannot see the children.

John meets Lee in Antigua, his mother has abandoned him and they form a bond.

It's a dangerous bond because John wants Lee to show his love and loyalty by killing a stranger.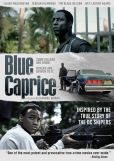 I remember when John and Lee were unknown but their crimes were all over the papers.

They were killing everyday people going about their lives.

Answering their door, in the parking lots of store, at a gas station and walking down the street.

They were strangers picked at random and not at all connected to John and Lee.

I didn't know the background story of the killers until I watched this film.

3* (This movie is OK)
93 min, Bio directed by Alexandre Moors with Isaiah Washington, Tequan Richmond, Tim Blake Nelson, April Yvette Thompson, Cassandra Freeman.
Note:

Imdb 6.1 out of 10, 83% critic 55% audience on Rotten Tomatoes, Roger Ebert 2 ½*.
Special Note:

Blue Caprice is the 1990 Chevy sedan driven by the killers.

John made an opening in the trunk to shoot through without being seen.