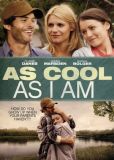 Lucy is a sixteen-year-old tomboy.

Her father is gone a lot at work in Canada but they get along well.

She
enjoys doing a lot
of the cooking
and
has an easy-going relationship with her mother.

She becomes more friendly with her best friend Kenny and she starts to notice that her parents' marriage is not as good as she thought.

The time her father spends away from the family is not like in other marriages.

Also, her mother doesn't miss her father as much as she does.
I like Bolger, Danes and Marsden as actors but the plot in this film is very weak.

It seems too much like a TV movie and Bolger is more like a parent than her parents?

I almost stop watching but I wanted to like this and gets just a little better.

3* (This movie is OK)
92 min, Drama directed by Max Mayer with Sarah Bolger, Claire Danes, James Marsden, Thomas Mann, Jeremy Sisto, Rhys Coiro, Peter Fonda, Anika Noni Rose, Jon Tenney.
Note:

Blockbuster 1 ½*, imdb 5.5 out of 10, 17% critic 27% audience on Rotten Tomatoes.