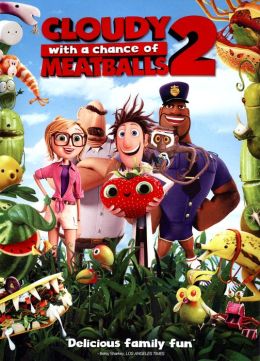 Inventor Flint Lockwood and his friends are forced to leave their town after the meatball storm in the first Meatballs movie.

The Live Corp Company headed by Chester V asks Flint to join forces with him to clean up the island.

Flint doesn't hesitate to accept since Chester V is his idol.

Flint is supposed to go alone but his friends want to join him and they discover his machine is still operating.

It creates mutant food beasts such as pickles that are alive, hungry tacodiles with babies, shrimpanzees and apple pie-thons.

Flint may be the only one who can save the world?
I wonder how many cups of coffee it took to dream up this movie?

It's like hyperactivity and medication combined to make so many themes and characters that you need to view in slow motion to make sense of everything going on?

3* (This movie is OK)
95 min, Animation directed by Cody Cameron and Kris Pearn with the voices of Bill Hader, Anna Faris, Will Forte, Andy Samberg, Benjaman Bratt, Neil Patrick Harris.
Note:

Imdb 6.5 out of 10, 70% critic 67% audience on R
otten Tomatoes, Roger Ebert 2 ½*.