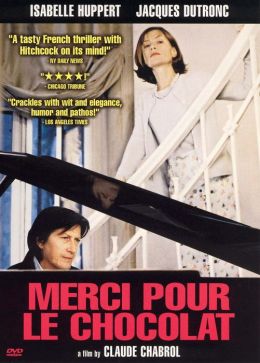 This film is based on The Chocolate Cobweb by Charlotte Armstrong. Jeanne Pollet is an aspiring pianist and she has lunch in Lausanne Switzerland with her mother, her boyfriend and his mother.

Out of the blue, her mother tells a story about when Jeanne was born.

It was at a small hospital and a nurse made a mistake when she showed Jeanne to famous pianist Andre Polonski.

His wife had actually given birth to a son and not a girl.

Now, Jeanne is wondering if she could really be the daughter of Polonski instead?

Jeanne is working on an examination and she drops in on the Polonski family.

She is hoping Andre will help her with her technique.
Mika, Andre Polonski's first and third wife seems so happy and loving?

There can't be any unkind thoughts behind this placid face can there?

If anything unusual is happening or has happened it must be due to circumstances or an accident?

It could be due to her unexpected clumsiness?

I don't want to give spoiler hints about this film!!

3* (This movie is OK)
99 min, Drama directed by Claude Chabrol with Isabelle Huppert, Jacques Dutronc, Anna Mouglalis, Rodolphe Pauly, Brigitte Catillon, Michel Robin, Mathieu Simonet, Lydia Andrei, Veronique Alain.
Note:

Imdb 6.7 out of 10, 84% critic 67% audience on Rotten Tomatoes, Roger Ebert 3*.
Special Note: The scenes for this film were shot in Lausanne, Canton de Vaud, Switzerland. These areas are French speaking and in the Romandy region.