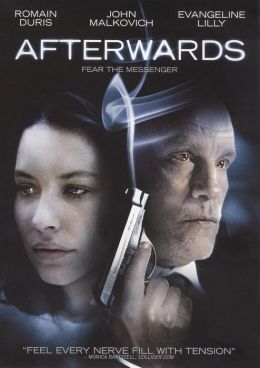 Nathan has experienced professional success as a New York lawyer but his personal life has a void since he recently divorced his wife.

Claire is his only love but the death of their infant son was more than they could handle.

A mysterious doctor comes to see Nathan and he introduces himself as a "Messenger."

Doctor Kay claims he can sense when people are about to die because he can see an aura of light surrounding them.

His job is to help them to put their lives in order before they pass.

Nathan becomes furious and he doesn't believe a word of this rot!!

He has many tests to determine his physical health and they all come back as normal.

When Nathan was a child, a car hit him and he had the chance to move on or come back.
This movie is based on a book that may give clearer and more sequential information.

It seems the flashback scenes only increase confusion and Malkovich doesn't fully explain himself from beginning to end.

The viewer is left to fill in the blanks and rearrange the scenes to figure out what is really going on.

There are still unexplained mysteries due to the initiations of human understanding of death.

There are just a few scenes in French so this is easier than having to read everything in subtitles.

3* (This movie is OK)
104 min, Drama directed by Gilles Bourdos with Romain Duris, John Malkovich, Evangeline Lilly, Pascale Bussieres, Sara Waisglass, Reece Thompson, Bruno Verdoni, Joan Gregson, Mark Camacho.
Note:

Imdb 5.9 out of 10, 38% audience on Rotten Tomatoes, Amazon 3.7* out of 5 with 17 reviews.
Special Note:

The DVD cover picture is misleading about summarizing this film.

There isn't a gun between Malkovich and Lilly in the plot.
Duris
, the main actor, is shown
only
on the back cover.

It also states that this is a fast paced thriller and that is wrong.

Not a thriller and not fast paced?