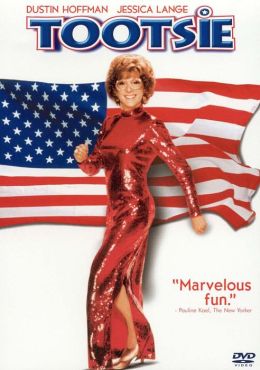 Michael Dorsey is an unemployed New York actor with a reputation that no one will hire him because he's impossible to work with.

At least that is what his agent tells him when he goes to question him about not sending him on auditions.

Michael's friend Sandy goes to try out for a role in a hospital based television soap opera but the director says she's not the type he's looking for the role.

Michael dresses as a woman and says he's Dorothy Michaels at the audition.

She/he gets the job because she nails the role.

After Dorothy joins the cast, the series really starts to take off with many more fans writing in and more viewers.

Dorothy doesn't stick to the scrip because the fans say the lines are for dummies.

She does her own dialogue and sometimes the show is broadcast live.
A lot of complications develop after Dorothy starts work on this show.

Michael has to tell Sandy someone died in his family in order to account for the money he's making.

He can't tell her he got the job she wanted.

Michael really likes Julie who plays a nurse in the series but she doesn't know he's a man and she likes Dorothy as a friend.

Even though this film is from 1982, I had not seen it before and I thought Dustin Hoffman was a nanny when he dressed as a woman?

3 ½* (I liked this movie)
116 min, Comedy directed by Sydney Pollack with Dustin Hoffman, Jessica Lange, Teri Garr, Dabney Coleman, Charles Durning, Bill Murray, Sydney Pollack, George Gaynes, Geena Davis, Doris Belack, Ellen Foley.
Note: Imdb 7.4 out of 10, 88% critic 81% audience on Rotten Tomatoes, Roger Ebert 4*.
Special Note: There are some funny scenes with Dorothy trying to hail a cab. She can't get one to stop as a women but when she uses her male voice, they will stop. She throws a man out of cab when he tries to take her ride.