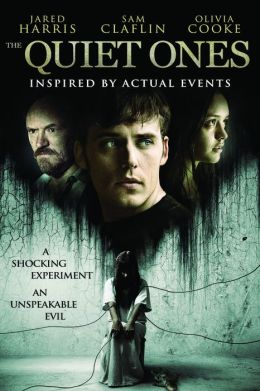 The year is 1974 in Oxford, England.

Professor Joseph Coupland invites students Brian McNeil, Krissi Dalton and Harry Abrams to help him with the study of a subject, Jane Harper.

Jane believes a doll named Evey gives her telekinetic power and has taken possession of her.

Jane also doesn't have any memory of her past except that she was abandoned.

Professor keeps Jane in an isolated house with the Evey, he wants her to destroy the doll and heal herself.

Brian researches Jane's tattoo and learns a secret about Jane's past.
This movie is ridiculous.

The person watching this dvd before me had the setup with English subtitles.

I thought this just added more to the ridiculous feel of the movie and I didn't change the setup.

This isn't scary, just stupid in almost every scene!!

Don't pay any attention to the 'spook' music either, it's at every turn whether the scene is scary or not!!

1 ½* (I really didn't like this movie)
98 min, Horror directed by John Pogue with Jared Harris, Sam Claflin, Olivia Cooke, Erin Richards, Rory Flec-Byrne, Laurie Calvert, Aldo Maland.
Note:

Imdb 5.1 out of 10, 36% critic 26% audience on Rotten Tomatoes, Roger Ebert 2 ½*.