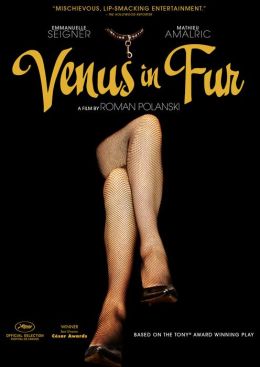 A Tony Award winning Broadway play by David Ives is the basis for this film.

The Broadway play is based on a novella by Leopold von Sacher-Masoch.

Thomas is the director of the play Venus in Fur.

He is attempting to find a woman for a main role in the play.

Vanda is late and everyone has already left except Thomas.

He wants to leave and go to dinner but Vanda persuades him to stay and listen to her audition.

She has come from across town and had many difficulties getting to the theater.

She would like to audition now instead of returning at a later date.
This film is in French with English subtitles.

I really did not like this and I could not get the least bit interested in any part of it.

It was a slog and not worth reading the subtitles unless you would like to improve speaking the French language.

½* (I really hated this movie)
96 min, Drama directed by Roman Polanski with Emmanuelle Seigner, Mathieu Amalric.
Note:

Imdb 7.2 out of 10, 91% critic 71% audience on Rotten Tomatoes.
Special Note:

It is rare for me to give ½* in a review but a lot of movies based on plays are not my cup of tea.

I find them too centralized on a section of time and this can be seem very boring to me.

The scenery can remain static and the cast can be limited in number. There are two actors in this film and the theater is the only area of filming.