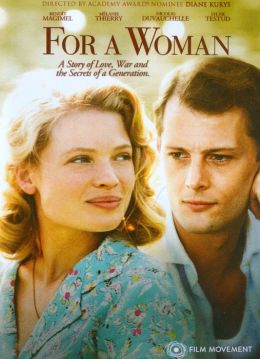 The title in French is Pour une femme. This film spans from post-war to the 1990's
in France
.

Tania and Anne have lost their mother three months ago and they are going through a suitcase with her jewelry, pictures and letters.

Anne is a writer and she doesn't know very much about their family history.

She begins to learn more information from the items her mother has saved.

Her father is becoming weaker and she needs to work quickly while she can still talk to him about the past.

Michel and Lena were married during World War II.

They were both in a concentration camp but Michel knew someone there who could get him released.

He had seen Lena in the camp and he asked her to marry him so he could save her too.
They
have settled in France and they are able to stay because Lena is having a baby.
They have Tania, their first daughter and they are very happy.
It is a little difficult to keep track of what is going on in this film.

The confusion is caused by way it goes back and forth from the present to flashbacks of the past. Michel's brother Jean comes to stay with them but both Michel and Lena are not sure he is really his brother?

It is not spelled out why he is there and how he got there but told through events that happen but not explained clearly.

3* (This movie is OK)
110 min, Drama directed by Diane Kurys with Benoit Magimel, Melanie Thierry, Nicolas Duvanchelle, Sylvie Testud, Denis Podalydes, Julie Ferrier, Clotilde Hesme, Clement Sibony, Marc Ruchmann.
Note:

Imdb 6.4 out of 10, 89% critic 55% audience on Rotten Tomatoes, Roger Ebert 2*.