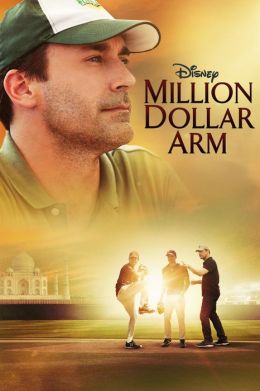 In 2008, J.B. Bernstein formed his own company as sports agents.

They have been in business for three years and they had hoped to be further ahead financially by this time.

They have a chance to sign a big client but it falls through because they cannot match a million dollar signing bonus offered by another firm.

J.B. comes up with the idea to have a pitching tryout in India.

They play cricket in India and they know how to pitch.

He discovers two good pitchers but they don't know anything about cricket or baseball.

Another man volunteers to work for free on coaching to gain experience and come to America.

J.B. has agreed with his investor that the pitchers can be ready for the big league in one year.
This role for Jon Hamm is not much of a stretch from his role as Don Draper on Mad Men.

When J.B. sets his sights on the angles, the connections and the money, he loses sight of what the two young men and the coach need from him to succeed in this endeavor.

The American coach has told J.B. that it will take two years to get them ready?

3* (This movie is OK)
124 min, Bio directed by Craig Gillespie with Jon Hamm, Pitobash, Suraj Sharma, Madhur Mittal, Aasif Mandvi, Darshan Jariwala, Lake Bell, Alan Arkin, Bill Paxton.
Note:

Imdb 7.1 out of 10, 61% critic 71% audience on Rotten Tomatoes, Roger Ebert 2*.
Special Note:

There is a mistake in this film.

There is a television scene with singer Susan Boyle who was featured on Britian's Got Talent in 2009 and this story takes place in 2008.