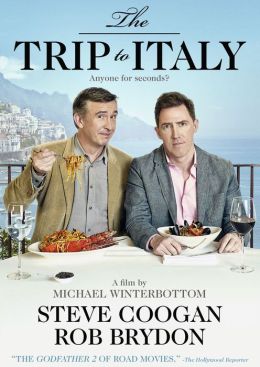 The first movie titled, The Trip, was an improvised restaurant review tour of Northern Britain. Following the success of the first film, this tour is of the restaurants of Italy.

Like the other film, there is a lot of banter back and forth since this trip is a retracing of a grand tour by Romantic poets.

Many scenes are included of the idyllic Italian landscape.
The food looks wonderful and you want to have tastes for yourself!!

The vocal impersonations of both Coogan and Brydon get a little tiresome at times and they did in the first film as well.

I would liked more descriptions of the types and flavors of the food and wines.

2 ½* (This movie is so-so)
108 min, Comedy directed by Michael Winterbottom with Steve Coogan, Rob Brydon, Rosie Fellner, Claire Keelan, Marta Barrio, Timothy Leach, Ronni Ancona, Rebecca Johnson, Alba Foncuberta Bufill, Flora Villani.
Note:

Imdb 6.8 out of 10, 85% critic 59% audience on Rotten Tomatoes, Metascore 75/100 with 36 reviews, user score 5.0/10 with 24 ratings.