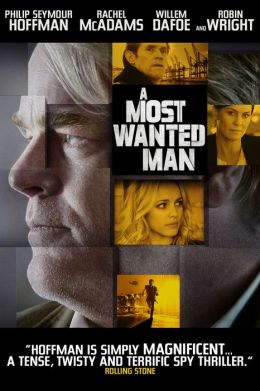 This film is based on a novel by John le Carre.

Isa Karpov is a half-Chechen, half-Russian Muslim man who travels to Hamburg Germany.

He visits the Islamic community to claim his fathers' fortune that was obtained illegally.

Adding to the intrigue, the man has been cruelly tortured before his arrival.

Security for the US and Germany are both interested in this case.

What is the truth behind this man, is he a victim or an extremist?
Everyone in this film has the fear of a terrorist attack in the background of their work.

What should they look for, what should they see, what should they do, how can an incident be prevented and what will be the next incident? This is low key and doesn't keep you on the edge of your seat over their investigation. 3* (This movie is OK)
122 min, Thriller directed by Anton Corbijn with Philip Seymour Hoffman, Rachel McAdams, Daniel Bruhl, Grigoriy Dobrygin, Homayoun Ershadi.
Note:

Imdb 6.9 out of 10, 88% critic 66% audience on Rotten Tomatoes, Roger Ebert 2 ½*.
Special Note:

This film is the last leading role for Phillip Seymour Hoffman.