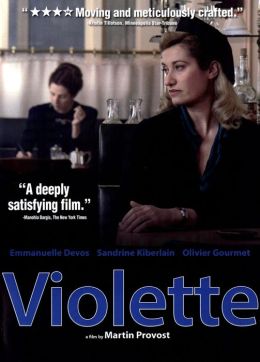 At the beginning of the 20th century, Violette Leduc was born out of wedlock and her mother was a servant.

Her father was the son of the wealthy family where her mother worked.

She never forgets this aspect of her life and she sees herself as ugly, unwanted and unloved.

As an adult, she meets Simone de Beauvoir in the years after the war.

Violette is living in St-Germain-des-Pres and Simone begins to direct Violette's writing career.

They have this relationship for many years.

Violette writes like a man and she tells of her life as a black market seller during the war and her early years with her mother.

Her first novel is titled, The Prison of Her Skin.

The novel of her early years is titled, The Bastard, published in 1964.

She has also written Mad in Pursuit, The Taxi, The Lady and the Little Fox Fur and Therese et Isabelle.

She was born in 1907 and died in 1972.
This is a tough life and a tough film.

Don't expect anything light from the beginning to the end.

Misery and the ability to put her experiences and feelings into words are the sum total of Violette.

It's difficult for people to be involved in her life because she can become a stalker with a firm grip.

3* (This movie is OK)
139 min, Bio directed by Martin Provost with Emmanuelle Devos, Sandrine Kilberlain, Olivier Gourmet, Catherine Hiegel, Jacques Bonnaffe, Olivier Py, Nathalie Richard, Stanley Weber, Jean Toscan.
Note:

Imdb 6.8 out of 10, 84% critic 64% audience on Rotten Tomatoes, Metascore 72/100 with 14 reviews, 91/100 Entertainment Weekly, 90/100 Village Voice, The New York Times 90/100.