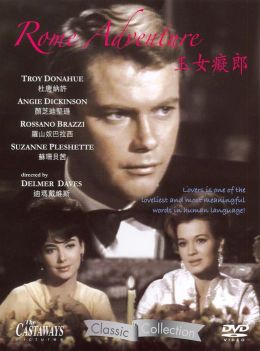 Prudence Bell is called before the leadership of the school where she teaches.

She has given a senior student her personal copy of a romance novel.

Instead of being fired, Prudence resigns right away.

She books a boat for Italy and takes a job at a small bookstore in Rome.

She meets Don, his girlfriend has just ended their relationship and Don begins a romance with Prudence.

They take a tour of Italy together and have a wonderful time.

When they return to Rome, Lyda Kent, his former girlfriend is waiting for Don.

She claims to need Don's help and she believes they can resume
their relationship
where they left off in.

Prudence is very hurt and she books her passage back to America right away.
The scenery, music and history of Rome are beautiful and interesting.

There are a lot of differences between the world of 1962 and 2015!!

It's not very hard to figure out what is going on and how this will end.

3* (This movie is OK)
119 min, Drama directed by Delmer Daves with Troy Donahue, Suzanne Pleshette, Rossano Brazzi, Angie Dickinson, Hampton Francher, Constance Ford, Al Hirt.
Note:

Imdb 6.6 out of 10, 55% audience on Rotten Tomatoes, Amazon 4.4* out of 5* with 115 reviews.