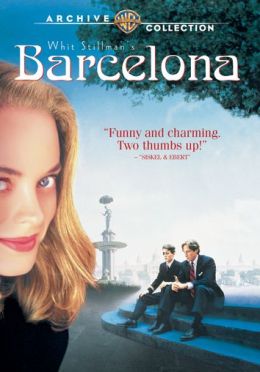 The setting of this film is at the end of the civil war in Spain in the early 1980's.

Ted Boynton is from Chicago Illinois and he is working in sales for the Barcelona office of a US corporation making electric engines.

Unexpectedly, his cousin Fred comes to visit.

Fred is a lieutenant junior grade in the US Navy and his job is to work damage control on anti-American sentiment.
This film is listed as a comedy but I didn't see anything funny?

Ted is very verbose and he can expound at length on any subject.

Fred is completely different and as a result, they are constantly butting heads.

Another aspect of Fred is he invents shocking stories.

Ted and Fred don't seem to realize they present themselves as targets for factions against Americans.

2 1/2* (This movie is so-so)
101 min, Drama directed by Whit Stillman with Taylor Nichols, Chris Elgeman, Tushka Bergen, Mira Sorvino, Pep Munne, Hellena Taylor, Nuria Badia, Thomas Gibson, Jack Gilpin, Pere Ponce, Laura Lopez.
Note:

Imdb 7.0 out of 10, 81% critic 81% audience on Rotten Tomatoes, Roger Ebert 3*.