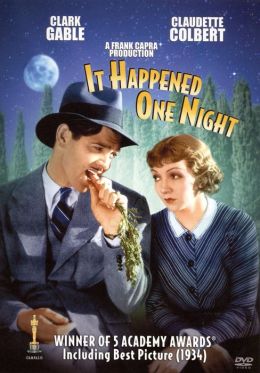 Ellie Andrews married society aviator King Westley but her father doesn't approve of the marriage.

He takes her away on his yacht but she jumps into the water and buys a ticket on a bus headed back to New York.

Right away she meets reporter Peter Warne.

He offers to help her because he sees she doesn't know a thing about taking care of herself.

He tells her he will tell her father where she is if she doesn't let him help her.

In reality, he's trying to get a very good newspaper story, at least that's what he planned in the beginning.
This is good, it doesn't seem dated at all except for the wonderful old Greyhound buses and cars.

All along you think you know where this is going but you're not sure until the end.

3 ½* (I liked this movie)
105 min, Comedy directed by Frank Capra with Clark Gable, Claudette Colbert, Walter Connolly, Roscoe Karns, Jameson Thomas, Alan Hale, Arthur Hoyt, Blance Frederici, Charles C. Wilson.
Note:

Imdb 8.3 out of 10, 98% critic 94% audience on Rotten Tomatoes, The Guardian 5*.
Special Note:

This film won five major Academy Awards in 1934.