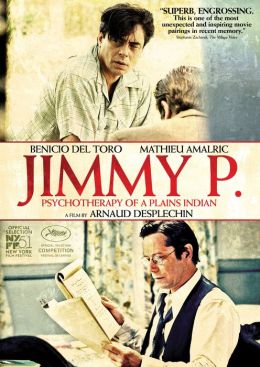 This film is based on the true story of Jimmy Picard, a Blackfoot Native American and a disabled veteran of WWII.

His sister takes Jimmy to a military hospital because he is suffering from headaches, dizzy spells, sweating, dreams and hearing loss.

The doctors can't seem to find anything wrong with him except his eyesight and hearing.

Georges Devereux is a French anthropologist and Native American researcher.

The doctors ask him to come and try to help this patient.

Jimmy is Georges only patient and he meets with him once a day.

He's planning to work with Jimmy until he is well and it doesn't matter how long it takes.

They delve deeply into both the childhood and adulthood of Jimmy to uncover the reasons for his physical problems.
If you are looking for action, it is not in this film!!

Most of the movie is about Jimmy and Georges talking and trying to solve Jimmy's problems with talk therapy.

Once you settle in your mind that it is all talk with a few drunken and diagnostic scenes added, you can just relax and go along with noticing the differences in the two men and the way they unravel Jimmy's mind.

3* (This movie is OK)
117 min, Drama directed by Arnaud Desplechin with Benicio Del Toro, Mathieu Amalric, Gina McKee, Gary Farmer, Larry Pine, Lise Lacasse, Linda Boston, Joseph Cross, Barton Bund, Loren Bass, Elya Baskin.
Note:

Imdb 6.0 out of 10, 52% critic 47% audience on Rotten Tomatoes, Roger Ebert 3 ½*.