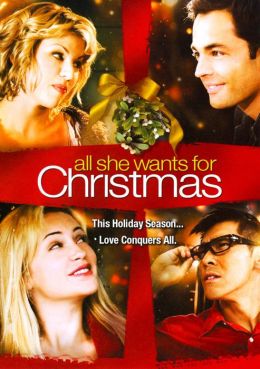 The biggest employer in Forest City is the Aikens Christmas decoration factory.

Noelle Dunn is working on an economics graduate degree and she has returned to her hometown to finish her thesis by working as an efficiency expert at the plant. Mr. Aiken, the founder of the factory has passed away but Noelle learns he arranged for his personnel money to support losses at the factory.

His granddaughter Ashley has come to the factory to see if the company can turn a profit.

Noelle meets Justin when she accidently releases are large balloon snowman from a display.

She gets him a line job at the factory and she becomes jealous when she sees Justin with Ashley.

Another problem for the town is that a MegaMart is planning to open a large store.

This will hurt the factory and a lot of small businesses.
Noelle has her work cut out for her.

By December 25, she needs to save the factory, unite the town, finish her degree for her MBA and find out if this romance with Justin is real or does he really want to be with Ashley?

Noelle certainly has 'perky' going for her!! 3* (This movie is OK)
91 min, Comedy directed by Ron Oliver with Monica Keena, Tobias Mehler, Steve Bacic, Ali Liebert, Sonya Salomaa, Denise Galik, Nelson Wong.
Note:

Imdb 4.8 out of 10, 28% audience on Rotten Tomatoes, Amazon 3.5* out of 5* with 32 reviews.