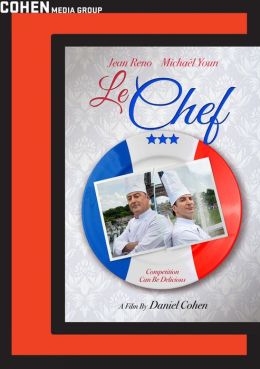 Stanislas Matter, the CEO of a restaurant group is hoping one of the restaurants will lose a star so the chef can be fired.

He would like to bring in a younger chef specializing in molecular gastronomy.

Jacky Bonnot has been fired from many restaurants and he is now working as a house painter.

He has many windows and doors to paint.

He sees some chefs cooking for a senior home and he asks them to open the window so he can give them some cooking tips.

The seniors clap for the food and they want the same type of food for the next day.

Alexandre Lagarde is really worried about being fired if they lose a star.
This is funny!!

Usually Jean Reno is in films like the Pink Panther.

Jacky needs to keep a job because he will be a father soon.

The food at the restaurant is real food versus "fake" food. Can they work together on the new Spring Menu?

3 ½* (I liked this movie)
84 min, Comedy directed by Daniel Cohen with Jean Reno, Michael Youn, Raphaelle Agogue, Julien Boisselier, Salome Stevenin, Serge Lariviere.
Note:

Imdb 6.6 out of 10, 48% critic 59% audience on Rotten Tomatoes, Metascore 43/100 with 13 critics, 4.6/10 with 5 ratings.

San Francisco Chronicle 100/100, Los Angeles Times 70/100, New York Post 63/100.