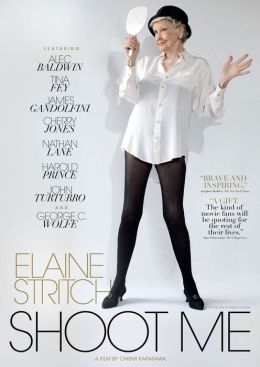 Many people in the entertainment industry who knew her talk about Elaine Stritch and her long career in this film.
Her career began in 1944 when she first appeared on stage.
She is now 87 years old and still performing her one-woman cabaret act.

She also has a recurring role as Alec Baldwin's mother on 30ROCK.

She talks about aging, her struggles with alcohol and diabetes.

Archival footage is shown about her life along with her personal collection of photographs.

She is a one-of-a-kind, a winner of a Tony and two Emmy Awards.
There is a lot of interesting information about her life in this film but she is not sugarcoated as a person.

She expressed her views the way she saw it and she didn't treat other performers as "special" people.

She wasn't shy about comments concerning attire or other aspects of people.

3 ½* (I liked this movie)
81 min, Doc directed by Chiemi Karasawa with Elaine Stritch, Tina Fey, Alec Baldwin, James Gandolfini, Hunter Ryan Herdlicka, Paul Iacono, Cherry Jones, Julie Keyes, Nathan Lane, Ramona Mallory, Tracy Morgan.
Note:

Imdb 7.5 out of 10, 98% critic 80% audience on Rotten Tomatoes, Roger Ebert 3*.
Special Note:

Elaine Stritch died in her sleep at her home in Birmingham, Michigan on July 17, 2014 at the age of 89 years old.

She had surgery for stomach cancer three months before her death.