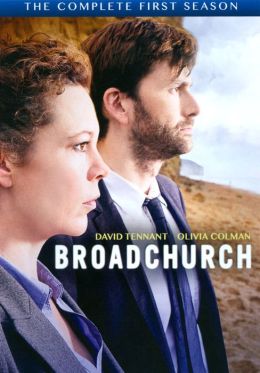 Danny Latimer heads out early in the morning on his skateboard to pick up the newspapers for his route.

Later in the day Beth, his mother goes to his school and she discovers Danny hasn't been to school.

She tries his cell phone and also calls her husband Mark.

She starts home but there is a huge backup on the road.

Someone tells her that a boy's body has been found on the beach.

Beth starts running and her worst fears are confirmed when she learns the body is Danny.

This crime starts a huge investigation that uncovers many secrets in the community.
If you think you can figure out who is the killer, you will have a tough time!!

This is excellent and you are kept guessing the entire 7 out of 8 episodes.

The head investigator has a past history of a failed case settlement and he also has health issues.

In the beginning, it doesn't help that his partner Ellie Miller expected to get this job after she returned from a three-week holiday.

5* (I really loved this series)
48 min each, 8 episodes, TV series created by Chris Chibnail with Olivia Colman, David Tennant, Jodie Whittaker, Andrew Buchan, Johathan Baily, Arthur Darvill, Adam Wilson, Charlotte Beaumont, Matthew Gravelle, Carolyn Pickles, Pauline Quirke, Joe Sims, Susan Brown.
Note:

Imdb 8.4 out of 10, 90% critic 94% audience on Rotten Tomatoes,
Metascore 91/100 with 30 critics, 8.6/10 with 156 reviews, 100/100 Philadelphia Inquirer, 100/100 The Huffington Post, 100/100 The Hollywood Reporter, 91/100 Entertainment Weekly, 90/100 Los Angeles Times.
Special Note: There will be a Series 2 in 2015.