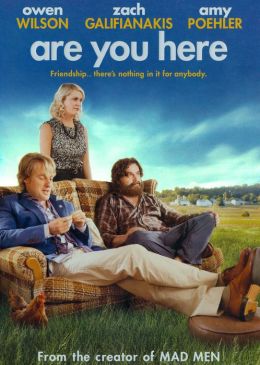 Ben Baker is an adult but he's not a grown-up and he spends his life getting high on his friend's couch.

Steve Dallas is a somewhat successful weather reporter but he lives a shallow life.

Ben is notified that his father has dies and Steve drives him home.

When they arrive, they reconnect with Ben's sister Terri and his mother Angela.

Ben believes he can come up with a new purpose for his life as he listens to the reading of the will.
How many movies will there be about man-child slackers with failure-to-launch syndrome? I guess if even one of these films made a little bit of money, it will have to be repeated over and over until people stop watching? Of course there has to be a road trip, there can't be a slacker movie without a rode trip or they would not have anything to do? Maybe the most unusual thing about this film is that it was worked on over an eight year period by Matthew Weiner, the Mad Men writer and also a contributor to the eight year run of the Sopranos? Was his mind blown and he didn't have anything left? So many questions with no answers? 1 1/2* (I really didn't like this movie and it's a waste of time)
114 min, Comedy directed by Matthew Weiner with Owen Wilson, Zach Galifianakis, Amy Poehler, Jay Gates, Jason Davis, Melissa Rauch, Melanie Ratcliff, Noami Lavette, Lauren Lapkus, Alana De La Garza, Greg Cromer.
Note:

Imdb 5.3 out of 10, 7% critic 22% audience on Rotten Tomatoes, Roger Ebert 1 ½*.