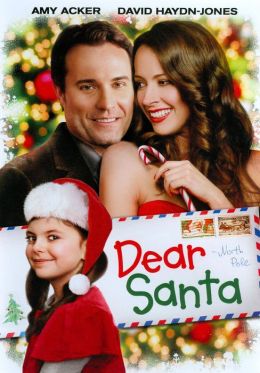 Crystal is a party girl who didn't finish college.

Her family is wealthy and Crystal loves to spend money.

Especially her parent's money since she doesn't have a job.

Her mother informs her that they have decided they will cut off her money after Christmas.

They want her to do something better with her life instead of spend their money.

Crystal mysteriously finds a letter written to Santa from 7 year-old Olivia.

The letter fell out of a mail pouch onto the sidewalk and she tried to give it back.

Olivia is asking Santa to send a new wife for her dad.

Crystal decides to try to make this Christmas wish come true for Olivia and change her own life too.
Olivia is easy to for Crystal to like and get along with.

Derek's wife died but he has his former girlfriend planning to move into the role of a new wife.

Maybe this is the answer to Crystal's new-life plan?

3 ½* (I liked this movie)
90 min, Drama directed by Jaason Priestley with Amy Acker, David Haydn-Jones, Emma Duke, Patrick Creery, Gina Holden, James Dugan.
Note: Imdb 6.4 out of 10, 59% audience on Rotten Tomatoes, Amazon 4.6* of 5* with 101 reviews.