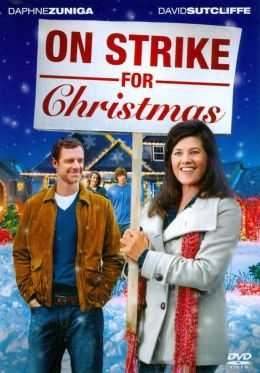 This film is based on a novel by Sheila Roberts.

Joy Robertson has always enjoyed the Christmas season.

She likes to decorate, host parties and bake.

This year will be the last year her two teenage boys will be home before going to college and she is hoping for it to be perfect.

She has asked her family to help her but they seem to be piling on requests and not doing any of the simple things she has asked them to do.

When she sees they are eating for breakfast the Christmas cookies she was up until 4AM making, it is the LAST straw.

They didn't 'see' the note stating what event the cookies were going to is their excuse.
The workers at a local grocery store
are on strike and the signs give her
an idea.
My first question is, why are they eating Christmas cookies for breakfast?

The scenes with the three guys trying to make Christmas cookies are very funny.

They are very lacking in baking skills.

Many of the women in the town join in with Joy on her strike because they are feeling the same way.

They all feel unappreciated and overwhelmed.

3 ½* (I liked this movie)
87 min, TV movie directed by Robert Iscove with Daphne Zuniga, David Sutcliffe, Victor Zinck Jr., Evan Williams, Chelah Horsdal, Vincent Gale, Julia Duffy, Ian Brown, Alex Bruhanski, Olivia Cheng.
Note:

Imdb 5.1 out of 10, 24% audience on Rotten Tomatoes, Amazon 4.5* out of 5* with 45 reviews.