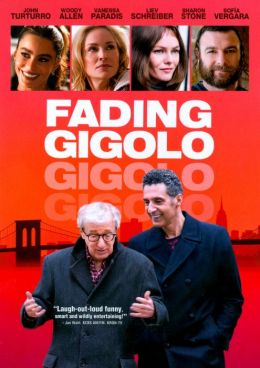 Murray is the bankrupted owner of a rare book store
in Brooklyn
.

He's forced to close the family business and he needs to come up with something else for income.

Fioravante works in a florist shop and he's an attractive man.

This fact gets Murrays mind working when he thinks about his wealthy female dermatologist Dr. Parker.

Murray proposes to become a "manager" for Fioravante with Dr. Parker as their first client.

Murray will take 40% and Fioravante will take 60% but they will split tips 50-50.

They are doing well until Fioravante meets Avigal and they fall in love.

She is the widow of a rabbi and the Jewish community will make their relationship difficult for them.
I would not consider this to be a comedy and I didn't see anything funny?

I did not understand and it's not explained why Allen lives with Jill Scott and her four boys?

Why is there a scene with boy's hair being combed for head lice?

Head lice are a parent's nightmare?

The odd-ball mix-up of scenarios seems weird?

2 ½* (This movie is so-so)
90 min, Comedy directed by John Turturro with Woody Allen, Sharon Stone, Vanessa Paradis, Live Schreiber, Sofia Vergara, Tonya Pinkins, John Turturro.
Note:

Imdb 6.3 out of 10, 54% critic 42% audience on Rotten Tomatoes, Roger Ebert 2 ½*.