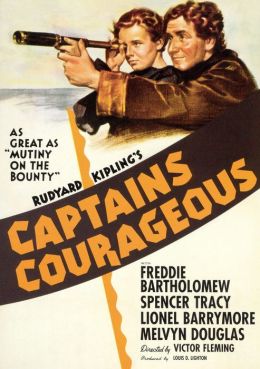 This film is based on a story by Rudyard Kipling.

Mr. Cheyne doesn't know what to do about his son Harvey.

He is a spoiled brat and has been dismissed from school.

Mr. Cheyne is very wealthy but he is very busy too.

He knows he needs to spend more time with Harvey and they go on a trip aboard and ocean liner.

Harvey plays a prank on two other boys and it ends badly.

Harvey accidently falls overboard into the ocean.

Fortunately, a fishing boat picks him up right away.

The boat is heading out for the beginning of the fishing season and the captain refuses to take Harvey back to the ocean liner.

The fishermen can't afford to arrive late at the fishing area.

Harvey tries to bribe the crew into returning him but they don't believe him.
This is good, interesting with a good ending.

Harvey learns some real life lessons on this fishing trip.

He starts working with Manuel who is a hardworking Portuguese fisherman.

Harvey tries and experiences many things he's never done before.

Plus, he learns how to be honest and hardworking.

3 ½* (I liked this movie)
117 min, Adventure directed by Victor Fleming with Freddie Bartholomew, Spencer Tracy, Lionel Barrymore, Melvyn Douglas, Charley Grapewin, Mickey Rooney, John Carradine, Oscar O'Shea.
Note:

Imdb 8.0 out of 10, 92% critic 88% audience on Rotten Tomatoes, Amazon 4.8* out of 5* with 188 reviews.
Special Note: This film received Academy Awards for Best Picture, Best Film Editing and Best Writing Adapted in 1938. Spencer Tracy won an Oscar for Best Acting in a Lead Role.