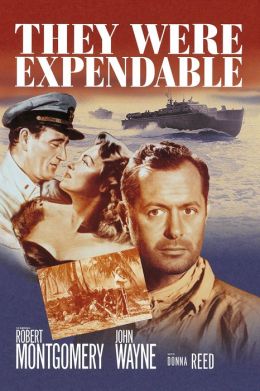 This film is based on the real life stories of Lieutenants John Bulkeley (Brickley) and Robert Kelly (Ryan) between December 1941 and April 1942.

A squadron of PT-boats and their crews are in Pearl Harbor during the attack by the Japanese.

They scramble the boats and try to shoot down as many planes as they can plus protect the boats from being hit.

After this battle, they are moved for service in the Philippines.
This film is good and interesting.

John Wayne is funny in his role, he doesn't like the nurses because they are dressed in potato sacks!

He also doesn't like being in the hospital and missing the action when he needs treatment for shrapnel.

President John F. Kennedy received

a Purple Heart after his Navy service on PT-109 in WWII.

3 ½* (I liked th
is movie)
135 min, Drama directed by John Ford, Robert Montgomery with John Wayne Robert Montgomery, Donna Reed, Jack Holt, Ward Bond, Marshall Thompson, Paul Langton, Leon Ames, Arthur Walsh, Donald Curtis.
Note:

Imdb 7.3 out of 10, 88% critic 73% audience on Rotten Tomatoes, Amazon 4.6* out of 5* with 172 reviews.
Special Note:

All the men have nicknames, Lt. John Brickley (Brick), Lt. (J.G.) Ryan (Rusty), C.B.M. Mulcahey (Boats), Ens. Gardner (Snake), Ens. Andrews (Andy) Lt. (J.G.) Long (Shorty), T.M. 1c Mahan (Slug), SC 2c Larsen (Squarehead).

Lieutenant was later a Vice Admiral and he was awarded the Medal of Honor and Lieutenant Kelly was awarded the Navy Cross.