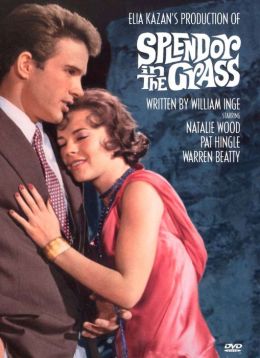 The period of this film is 1928 in southeast Kansas and the land is rich with oil.

The Loomis family is doing OK but the Stamper family is rich.

Deanie Loomis and Bud Stamper are in high school and they are in love.

Bud is a popular football captain and Deanie is a sensitive soul.

They are good kids and their parents expect a lot from them.

Bud's dad makes him promise he will go to Yale and not marry Deanie until he finishes college.

Bud has learned from the path his sister has taken that a girl can gain a bad reputation quickly.

Deanie's mother is very worried about her daughter and she questions her every time she comes home from seeing Bud.
This is good and doesn't seem dated plus I liked the clothing and the cars of the period.

A lot of times parents mean well but they sometimes are unable to separate what they wanted from their own lives and they project this onto their children.

Pressure is put on to follow a different path than the children intended that can change their lives and their future.

4* (I really liked this movie)
124 min, Drama directed by Elia Kazan with Natalie Wood, Warren Beatty, Pat Hingle, Audrey Christie, Barbara Loden, Zohra Lampert, Fred Steward, Joanna Roos, John McGovern, Jan Norris, Martine Bartlett.
Note:

Imdb 7.8 out of 10, 85% critic 90% audience on Rotten Tomatoes, Amazon 4.6* out of 5* with 219 reviews.
Special Note: The quote about splendor in the grass is from a poem by William Wordsworth. "That though the radiance which was once so bright be now forever taken from my sight. Though nothing can bring back the hour of splendor in the grass, glory in the flower. We will grieve not, rather find strength in what remains behind."