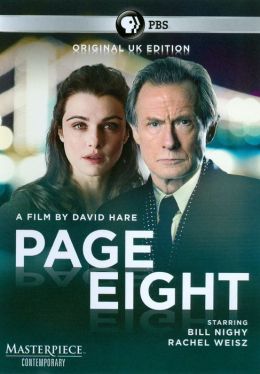 This is a BBC production set in London and Cambridge.

Benedict Baron gives his friend Johnny Worricker a file that could undermine the stability of MI5.

Johnny's neighbor is a political activist and he wonders if their meeting was really a 'chance encounter' or was it engineered?
Maybe it's because I don't understand the politics in the UK.

I can't get interested in this series of movies?

There is so much back and forth and the right hand doesn't know what the left hand is doing?

All of it doesn't seem to be given the importance it deserves either?

I did like that Johnny tosses the top-secret file into the rubbish bin at the airport before he boards a plane!!

2* (I didn't like this movie)
99 min, TV Movie, Drama directed by David Hare with Bill Nighy, Rachel Weisz, Tom Hughes, Michael Gambon, Judy Davis, Rakhee Thakrar, Saskia Reeves, Ewen Bremner, Felicity Jones, Richard Lintern, Holly Aird.
Note:

Imdb 6.8 out of 10, 92% critic 95% audience on Rotten Tomatoes, Amazon 4.4* out of 5* with 96 reviews.