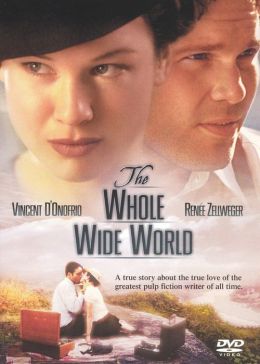 The setting of this film is Texas in the 1930's.

Novalyne Price wants to be a writer and

s

he meets Robert Howard. He makes his living as the writer of fiction stories, Conan the Barbarian, Red Sonja and Solomon Kane.

They begin a three-year friendship/romance.

Robert states the road I walk, I walk alone.

That doesn't leave much choice for Novalyne.

She realizes she is better suited to being a teacher instead of a writer and she moves to take a position in Lafayette Louisiana.
Price and Howard were in love but he had a lot of issues.

He shouted out the words to his stories as he typed them. The townspeople thought he was crazy?

He was unusually attached to his mother and they lived together after she was divorced from Howard's father.

This film is interesting and I liked the cars and clothing of the period.

3 ½* (I liked this movie)
111 min, Bio directed by Dan Ireland with Vincent D'Onofrio, Renee Zellweger, Ann Wedgeworth, Harve Presnell, Benjamin Mouton, Michael Corbett, Helen Cates.
Note:

Imdb 7.3 out of 10, 81% critic 72% audience on Rotten Tomatoes, Amazon 4.6* out of 5* with 138 reviews.
Special Note:

Price continued to teach and she retired at the age of 76.

After her retirement she wrote One Who Walked Alone and Day of the Stranger, both about Robert Howard.