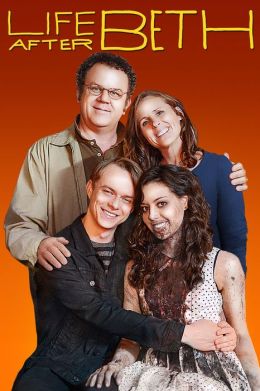 Beth Slocum is happily hiking alone in the woods but she dies from a venomous snakebite.

Her parents and her boyfriend Zach are deeply affected by her death.

Zach begins hanging out with the Slocum's but they begin to avoid his calls and they don't answer the doorbell.

Zach sees Beth through the window.

What Zach doesn't know and her parents are not fully aware of is that Beth is now a zombie.

Zach is very happy he has the chance to do and say everything to her he didn't get a chance to do before she died.

Her parents and Zach still love her but her unusual behavior and the strange events happening around town cause life with Beth to be overly complicated.
All the actors deserve better material.

Zach and Beth's parents are trapped in grief and hanging constantly onto any thread of Beth.

Beth doesn't remember anything about what happened to her in the woods.
After her return,
she doesn't realize what she has become and her father doesn't want her to be told. Her dilemma creates a definite behavior box for her as well.

3* (This movie is OK)
89 min, Comedy directed by Jeff Baena with Aubrey Plaza, Dane DeHaan, John C. Reilly, Molly Shannon, Cheryl Hines, Paul Reiser, Matthew Gray Gubler, Anna Kendrick, Eva La Dare, Thomas McDonnell, Alia Shawkat.
Note:

Imdb 5.7 out of 10, 45% critic 33% audience on Rotten Tomatoes, Roger Ebert 2*.