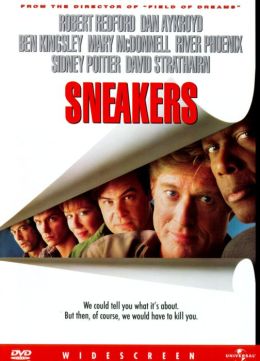 Martin Bishop manages a group of experts who test security systems.

They start a fire in the safety deposit box room of a bank.

Martin withdraws a large sum of money and he recommends improvements in the security force and account management for the bank.

Government agents blackmail Martin, they say they will clear his name of previous federal charges if he will steal a top-secret black box.

The box is a code-breaking machine developed by a mathematician.

Martin finds out the people he talked to are not from our Government but they are Russian.
I thought the computers and the phones from this period were funny!

This not an edge-of-your seat thriller that keeps you wondering the entire length of the movie!

The plot, methods and the equipment are dated.

2 ½* (This movie is so-so)
126 min, Crime directed by Phil Alden Robinson with Robert Redford, Dan Aykroyd, Sidney Poitier, David Strathairn, River Phoenix, Mary McDonnell.
Note:

Imdb 7.1 out of 10, 81% critic 81% audience on Rotten Tomatoes, Roger Ebert 2 ½*.