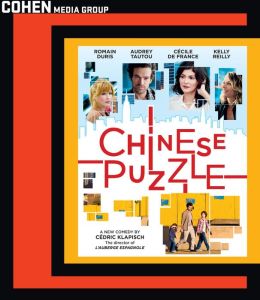 Wendy and Xavier are married with a son and daughter.

They live in France, Xavier is French but Wendy is British and she has lived in France for 10 years.

Wendy wants a divorce and she wants to take the children with her to live in New York.

This throws Xavier for a loop and he decides he must move to the United States if he wants to stay connected with the children.

This move turns out to be more difficult than he expected.

He needs to have an apartment in order to have visitation with the children.

He doesn't have a work visa so he can only get jobs that pay under the table.

He quickly learns that apartments in New York are expensive and difficult to find.

He also can't seem to find a place near the school the children are attending and for some reason, he doesn't want them to wear uniforms?
Xavier's life was simple in France but becomes more and more complicated in New York.

Supposedly, he is a relatively successful novelist in France but in New York, he can't afford a decent attorney or apartment?

How did he afford to live in France?

Everyone around him seems to be successful with well-paying jobs too?

A lot of what happens in this film seems to be imagined just to be complex.

2 ½* (This movie is so-so)
117 min, Comedy directed by Cedric Klapisch with Romain Duris, Audrey Tautou, Cecile De France, Kelly Reilly, Sandrine Holt, Flore Bonaventura, Jochen Hagele, Benoit Jacquot, Pablo Mugnier-Jacob.
Note:

Imdb 7.1 out of 10, 75% critic 68% audience on Rotten Tomatoes, Roger Ebert 1 ½*.
Special Note:

This is the third film in a trilogy called Auberge Espagnole (Spanish Apartment) by writer and director Cedric Klapisch.

The first film was in Spain L'Auberge Espagnole (The Spanish Apartment) in 2002 and the second was in St. Peterburg Les Poupees Russe (The Russian Dolls) in 2005.

Xavier's relationships are first introduced in the two other films.