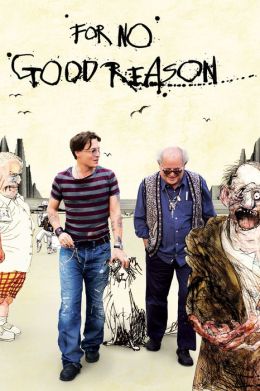 Ralph Steadman came from Britain to work on the illustrations for works written by Hunter S. Thompson.

Fear and Loathing in Las Vegas and The Curse of Lono.

When Ralph starts working with his inks, he doesn't know what is going to come from the paper.

He just begins and then he sees what happens as he goes along.

He uses many different techniques unique in contemporary art.

In this film, the drawings are brought to life through animation for the first time.

Interviews with Johnny Depp and others in the cast offer more information about Ralph and the work.
Ralph Steadman is unusual with a completely different style as an artist.

He doesn't see things the way most people do and you recognize his work immediately.

There is a lot of insight into his work process in this film.

3 ½* (I liked this movie)
89 min, Doc directed by Charlie Paul with Ralph Steadman, Johnny Depp, Hunter S. Thompson, Terry Gilliam, Richard E. Grant, Jann Wenner, Hal Willner.
Note:

Imdb 6.6 out of 10, 63% critic 56% audience on Rotten Tomatoes, Roger Ebert 2 ½*.
Special Note: You can see examples of his art on the DVD cover picture above.