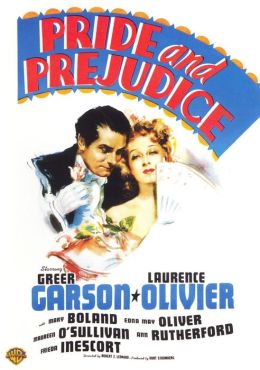 The time period is the 1800's and there are five unmarried daughters in the Bennet household.

Mrs. Bennet is nervous and anxious about finding good husbands for all of them.

All the family is in an uproar when they learn Mr. Bingley and Mr. Darcy have come to live nearby.

Since they are both wealthy men, they will be good husbands.

When Elizabeth first meets Mr. Darcy, she takes an instant dislike to him and his behavior.

She has just recently rejected the marriage proposal of Mr. Collins.

Of course, her mother is aghast at Elizabeth's refusal of two proposals.

Circumstances begin to align later to change the family's prospects.
This version of the novel adapted for film seems to highlight the fierce emphasis on decorum and manners no matter the outcome.

Everyone is very class conscious and there can be no infractions that will bring any shadow on the family name.

Daughters must marry wealthy men in order to have happy lives and bring more standing to the family.

The characters speak very quickly and I don't know how they have time to take a breath?

This is not my favorite version.

2 ½* (This movie is so-so)
118 min, Drama directed by Robert Z. Leonard with Greer Garson, Laurence Olivier, Edward Ashley, Marten Lamont, E.E. Clive, Majorie Wood, May Beatty, Maureen O'Sullivan, Ann Rutherford, Marsha Hunt, Heather Angel, Mary Boland, Edmund Gwenn, Freida Inescort.
Note:

Imdb 7.5 out of 10, 100% critic 76% audience on Rotten Tomatoes, Amazon 4* out of 5* with 516 reviews.