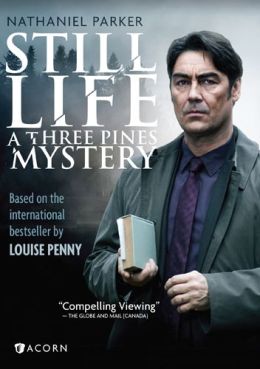 This film is based on a novel by Louise Penny and it is filmed in Canada.

Chief Inspector Armand Gamache and his investigation team arrive in Quebec to work on a new case in Three Pines.

A popular and much-loved schoolteacher in the village has been killed in an unusual manner.

At first, the team finds the wound strange and they are unsure about the weapon.

It's a shocking event for all the people who knew her and the area is usually a peaceful community without incidents such as this one.
The scenes of the woods and the trees with their autumn foliage are very beautiful.

There are a lot of characters and that causes confusion.

I had trouble keeping them in their places. There is one woman who died before the inspector arrived and she isn't shown but is mentioned a lot.

3* (This movie is OK)
88 min, TV Movie directed by Peter Moss with Nathaniel Parker, Anthony Lemke, Kate Hewlett, Gabriel Hogan, Mike McPhaden, Susanna Fournier.
Note:

Imdb 5.6 out of 10, Amazon 3* out of 5* with 46 reviews.