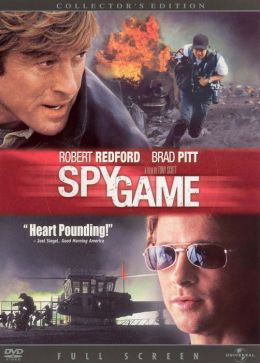 It's the last day on the job for CIA operative Nathan Muir.

He learns his specially trained protégé Tom Bishop has been arrested in Beijing China for spying.

Muir knows he will have to use all the skills he's honed at the CIA to get Tom out of this mess.

Muir is called into a meeting that is being recorded and filmed about the Tom Bishop problem.

They don't seem to mind that Tom could be killed in China by 8AM in the morning.
I thought this was good and interesting plus it doesn't seem to have aged.

Redford's character warns Pitt to put money aside and never touch it for any reason.

Luckily Redford doesn't follow his own advice.

3 ½* (I liked this movie)
126 min, Action directed by Tony Scott with Robert Redford, Brad Pitt, Catherine McCormack, Stephen Dillane, Larry Bryggman, Marianne Jean-Baptiste, Matthew Marsh, Todd Boyce, Michael Paul Chan.
Note:

Imdb 7.0 out of 10, 66% critic 76% audience on Rotten Tomatoes, Roger Ebert 2 ½*, Metascore 63/100 with 29 critics 7.2/10 user score with 50 ratings.
Special Note:

I'm not sure if it's improved technology in televisions or the filming of the movie?

In the beginning scenes, I could really see the facial completions of Redford and Pitt.

These scenes did not do them any favors and I wondered why they look so beat up with rough looking skin?