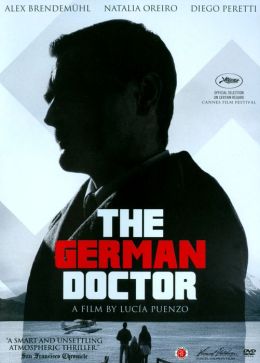 This movie is based on Wakolda, a fifth novel by Lucia Puenzo.

The setting of the film is Patagonia in 1960.

An Argentinean family is traveling to Patagonia to reopen a hotel that belongs to their family.

They encounter a doctor, Helmut Gregor from Germany along the way and he follows them on a long desert road to the small town of Bariloche.

Eva, Enzo and their three children become friends with the doctor and he is their first guest staying at the hotel.

He begins treating Lilith, their 12-year-old daughter with growth hormones because she is constantly teased at school.

Lilith is small, the size of an 8-year-old and the children call her dwarf.

Later, Eva gives birth to twins and the doctor helps them because their lungs are not fully developed.
Enzo is interested in making dolls and Helmut offers to invest money in having a factory make the dolls.

I thought it was slightly freaky to see the dolls being made, one after the other, just alike with perfect blue eyes and blond braided hair.

There are secrets in this film that hover in the background in combination with the beautiful landscapes of the area.

3 ½* (I liked this movie)
93 min, Drama directed by Lucia Puenzo with Alex Brendemuhl, Diego Peretti, Elena Roger, Guillermo Pfening, Florencia Bado, Alan Daicz.
Note:

Imdb 6.9 out of 10, 73% critic 62% audience on Rotten Tomatoes, Roger Ebert 3*.