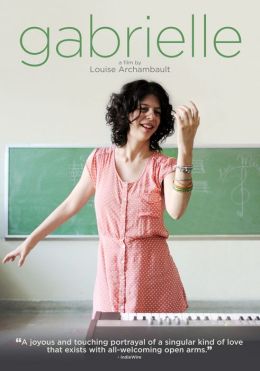 Gabrielle is a musically gifted 22-year-old woman with a zest for life and she doesn't let having Williams syndrome get in her way.

This syndrome is a genetic disorder causing developmental delay and cardiovascular problems.

She met Martin at the recreation center in Montreal where they sing in the choir, Les Muses de Montreal.

Their families are fearful of their relationship because they are both "different?"

The choir is practicing for an musical festival but Gabrielle becomes very upset when Martin stops coming. She takes the bus to the pet store where he works but he doesn't work there anymore.
This is good and you can connect with the characters.

Gabrielle longs to have her own apartment but she lives in a small group home.

She doesn't realize until her sister leaves her on her own for one day that she isn't equipped to be fully on her own.

She has her disorder to cope with and also diabetes.

She tests her blood sugar but she doesn't check it often enough. She also doesn't realize she needs to monitor activity and food intake in order to have regular normal numbers.

She gets lost and she doesn't know how to handle minor emergencies.

Her sister wants to help her but she also wants a life of her own.

3 ½* (I liked this movie)
104 min, Drama directed by Louise Archambault with Gabrielle Marion-Rivard, Alexandre Landry, Melissa Desormeaux-Poulin, Vincent-Guillaume Otis, Benoit Gouin, Sebastien Ricard, Marie Gignac.
Note:

Imdb7.0 out of 10, 95% critic 74% audience on Rotten Tomatoes, Metascore 70/100 with 11 critics, Village Voice 90/100, The New York Times 80/100, Variety 70/100, The Hollywood Reporter 70/100.
Special Note:

Produced by Luc Dery who was also involved with Monsieur Lazhar that featured a Montreal public grade school teacher. He is an Algerian immigrant hired to teach and help a class recover from the loss of their former teacher.