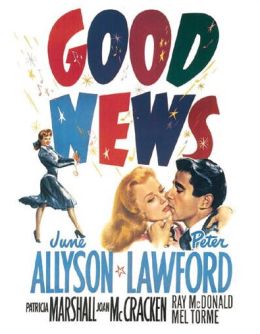 This film is set at fictitious Tait University during the Roaring 20's.

It's also the second film version of a DeSylva/Brown/Henderson Broadway musical. Connie Lane works in the school library and she likes football hero Tommy Marlowe.

He just sees Connie as another classmate and he wants to date Pat McClellan.

She's a new transfer to the school and he doesn't realize she is a gold digger with bigger fish to fry.

She latches onto another student until she learns Tommy may have more money. Tommy fails an exam in French which means he won't be able to play football unless he can pass a retest.

Connie reluctantly volunteers to help him study for the sake of the school and the other students. She's secretly very upset that Tommy ditched her to take Pat to the prom instead.
OK, there isn't enough story in this film and too much singing and dancing.

I did like the stars June Allyson and Peter Lawford.

It was interesting to see the football uniforms of this period and there are some funny scenes.

3* (This movie is OK)
93 min, Comedy directed by Charles Walters with June Allyson, Peter Lawford, Patricia Marshall, Joan McCracken, Ray McDonald, Mel Torme, Robert E. Strickland.
Note:

Imdb 8.1 out of 10, 82% audience on Rotten Tomatoes, Amazon 4.4* out of 5* with 68 reviews.