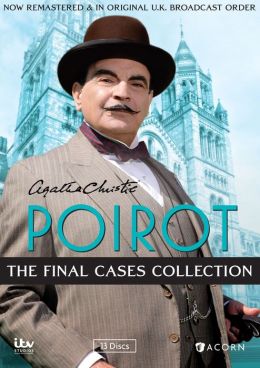 The Metropolitan Police work with Hercule Poirot to set a trap for the art thief Marrascaud.

Lucinda Le Mesurier is wearing a very valuable diamond necklace as the cheese for the trap.

And, if this is not enough of an enticement, there is also a priceless painting titled Hercules Vanquishing the Hydra.

Hercule assures Lucinda that nothing will happen and she will be perfectly safe.

Unfortunately, Marrascaud steals the painting, steals the necklace and Lucinda is murdered.

Hercule has gone into a deep depression because he could not live up to his assurances.

Three months later, Hercule takes a ride with one of the chauffeurs that has been sent to drive him several times.

Hercule learns the chauffeur is in love with the maid of a celebrated Russian ballerinea.

The chauffeur asks Hercule to try to find his true love. He agrees to take on the case without a fee.
This is good, there is a lot going on.

Hercule is very happy to be involved with a new case to raise his spirits and he learns there is a chance Marrascaud is in the same area as the ballerina and her maid.

Hercule and several other guests become snowbound at the Hotel Olympos in Neiges, Switzerland.

The snow doesn't stop several mysterious events to occur and many questions to pile up.

Can Hercule conquer his feelings of failure and rejuvenate the little grey cells?

4 1/2* (I loved this film)
89 min, TV Episode, Mystery directed by Andy Wilson with David Suchet, Patrick Ryecart, Rupert Evans, Lorna Nickson Brown, Stephen Frost, Isobel Middleton, Tom Chadbon, Tom Austen, Fiona O'Shaughnessy, Nicholas McGaughey, Tom Wlaschiha, Morven Christie.
Note:

Imdb 8.3 out of 10, TV Guide 4.5* out of 5* with 16 reviews, The Telegraph 4* out of 5*, Amazon 4.3 out of 5* with 77 reviews.