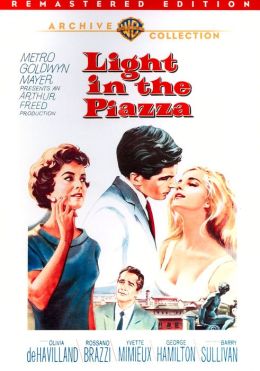 This film is based on a novella by Elizabeth Spencer.

Meg Johnson and her twenty-six year old daughter Clara are traveling in Italy.

As a child, Clara suffered an injury to her brain that resulted in her remaining like a ten year old.

Meg and Clara meet twenty-three year old Fabrizio Naccarelli in Florence.

In the beginning, Meg doesn't want Clara to get attached to Fabrizio because she has a difficult time letting people go. Meg doesn't know what will happen with Clara when they leave Florence to go to Rome?
Meg Johnson only wants the best for her daughter and she worries about her constantly.

She doesn't know anything about Fabrizio until she begins to meet his family.

She begins to think there might be a chance for a relationship for them?

The situation with Clara has caused stress on Meg's marriage.

3 ½* (I liked this movie)
102 min, Drama directed by Guy Green with Olivia de Havilland, George Hamilton, Yvette Mimieux, Rossano Brazzi, Isabel Dean, Moultrie Kelsall.
Note:

Imdb 7.0 out of 10, 77% audience on Rotten Tomatoes, Amazon 3.9* out of 5* with 10 reviews.