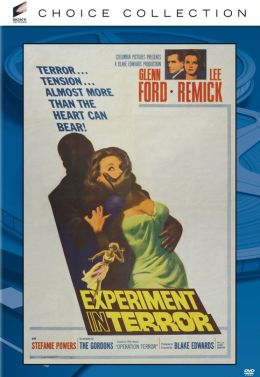 Kelly Sherwood comes home from her job as a bank teller in the evening.

She lives on a dead end street and she's greeted by a strange man who won't let her look at him. He says he will kill her and he's killed before if she doesn't do what he says.

He has a plan for her to take $100,000 from the bank and give it to him but he hasn't told her the details yet.

He also threatens Kelly's younger sister Toby, they live together and Toby is in high school.
This is good, almost like an Alfred Hitchcock film.

I liked the black and white, the black seems like it is even extra black.

I liked the cars, the Ford Fairlane convertible that Kelly Sherwood drives and the other vehicles of the period.

The movie was filmed in San Francisco and there are scenes at a Giants Game in Candlestick Park for the conclusion.

3 ½* (I liked this movie)
123 min, Crime directed by Blake Edwards with Glenn Ford, Lee Remick, Stefanie Powers, Roy Poole, Ned Glass, Anito Loo, Patricia Huston, Gilbert Green, Ross Martin, Clifton James, Al Avalon.
Note:

Imdb 7.3 out of 10, 100% critic 80% audience on Rotten Tomatoes, Amazon 4* out of 5* with 79 reviews.