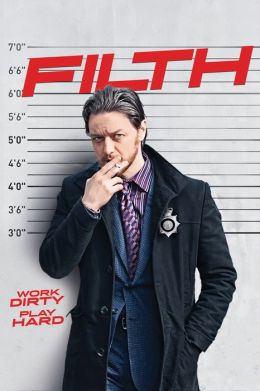 Bruce Robertson is a corrupt policeman hoping for a promotion.

He doesn't stop at corruption, he also very bigoted.

He is assigned to work on solving a murder case but instead of concentrating on his case, he works on trying to ruin his colleagues' chances of getting his promotion.

He steals their wives, exposes their secrets and wraps himself up in a web of deceit and drug use that gets out of control.

He begins to question his own sanity and grip on reality.
I could not get very far into this film.

There is nothing but craziness from the beginning to at least the middle.

Probably the title is a very good warning about what you are getting into and there is nothing funny in this film.

1 ½* (I really didn't like this movie)
97 min, Comedy directed by Jon S. Baird with James McAvoy, Jamie Bell, Eddie Marsan, Imogen Poots, Brian McCardie, Emun Elliott, Gary Lewis, John Sessions, Shauna Macdonald, Jim Broadbent, Joanne Froggatt.
Note:

Imdb 7.1 out of 10, 62% critic 69% audience on Rotten Tomatoes, Amazon 3.4* out of 5* with 90 reviews.
Special Note:

This movie along with Trainspotting from 1996 are based on novels by Irvin Welsh.

Trainspotting is about deep in the Edinburgh drug scene.

I think Trainspotting is also hard to take but better than this film with Imdb 8.2 out of 10.