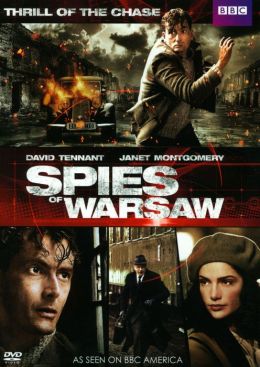 This film is an adaptation of a novel by Alan Furst.

The setting is Poland, Paris and Berlin starting in 1937.

Jean-Francois Mercier is a military attaché working at the French embassy but he's really a spy.

He is drawn into the secret world of abduction, betrayal and intrigue in the days before the German invasion of Warsaw, Poland.
This film is from BBC and it has all the right elements but it seems bland and boring?

I could not get drawn into any of the characters or the stories.

It just made me feel "oh, well" about everything happening?

Maybe the problem is too much information condensed into this short format?

It could also be that there are too many characters, too many places and too many years.

The only part I liked was the ending.

2 * (I didn't like this movie)
120 min, Action directed by with David Tennant, Janet Montgomery, Marcin Dorocinski, Miroslaw Zbrojewicz, Burn Gorman, Radoslaw Kaim, Linda Bassett, Allan Corduner, Anton Lesser, Jan Pohl, Richard Lintern.
Note:

Imdb 6.8 out of 10, 60% critic 50% audience on Rotten Tomatoes, Metascore 65/100 with 10 critic, 6.7 user score with 6 ratings, TV Guide 80/100, The New York Times 70/100, Variety 40/100.