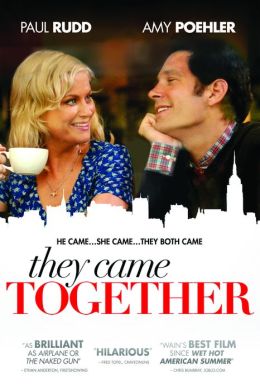 Joel asks Tiffany to marry him but she's been having an affair with Trevor for a year?

Joel meets Molly at a Halloween Party and they take an instant dislike to each other.

Molly loves having her own candy shop and it's been her dream for a long time.

Joel works for Corporate Candy Company and they are going to build a shop across the street from Molly.

Her accountant thinks she will quickly go out of business.

Somehow, Joel and Molly do get together but other things start to get in the way.
Molly and Joel are relating the story of how they met while out for dinner with friends and their story is told in flashbacks.

Everything about their relationship has a tilted edge to it.

This is really a spoof on all romantic comedies such as You've Got Mail, Pillow Talk, When Harry Met Sally.

Also, think of films with Julia Roberts, Jennifer Aniston or Kate Hudson.

Somehow, none of this seems to work for me.

A lot of times this is not at all funny.

1 ½* (I really didn't like this movie)
83 min, Comedy directed by David Wain with Paul Rudd, Amy Poehler, Bill Hader, Cobie Smulders, Christopher Meloni, Max Greenfield, Ellie Kemper, Jason Matzoukas, Melanie Lynskey, Ed Helms, Michael Ian Black.
Note:

Imdb 5.4 out of 10, 69% critic 38% audience on Rotten Tomatoes, Roger Ebert 1 ½*.